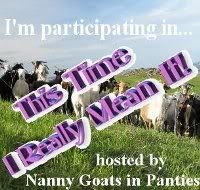 Hit the button if you wonder what all the hoopla is about. I am not making resolutions, just a few goals.....

The high and low of my goals are over at Walkin' In Sunshine but I wanted to add one for my garden.

I will work smarter NOT harder this year. I have my planting charts, I have the Farmers Almanac, and the last frost date (average date, I know), and will work according to that and NOTHING else. NO ONE will talk me into planting 500 seedlings in January only to have 90% of them die before it stopped raining enough for me to get them in the ground. Nuff Said!!!
Read more...